Automation projects pose a question often difficult for decision-makers to realistically address in the planning, budgeting, ordering and initial installation phases:
How will we mitigate our downtime costs during this transition?
The answer has a direct, bottom-line impact on total project cost. And it hinges in large measure on whether this is your operation's first automation project, the experience level of your project manager and how much freedom from day-to-day operations your project manager will have to oversee the minutiae of project detail.
The more experience a business has with automation projects, and the more experience its project manager has, the more weight the business is likely to give to the need for serious downtime risk management, even at some additional cost.
Automated operations burned by unexpected downtime during their facility's transition can tick off a glitch list of things that can, and will, and did go wrong: faulty measurements by equipment manufacturers, delivery of the wrong equipment, training issues that left plant workers without the skill and confidence needed to successfully operate the new equipment.
A glitch list can quickly strain even the fattest of downtime cushions in a project budget.
In-house management
Businesses looking at a substantial capital outlay for the automation project itself aren't exactly eager to spend additional money on a project manager. Instead, they often rely on in-house project management in a team effort with the equipment manufacturer.
Manufacturers reassure their customers that the purchase package includes it all: an on-site installation team and complete employee training for turn-key start-up.
If your plant goes this route, expect mixed results.
A story a former supervisor of mine used to love to tell seems to best describe what occurs when the well-intentioned sales force has departed, contract in hand, eager to repeat the process with the next customer, and its time for your manager to don the additional hat of on-site project manager.
You've probably heard the story my supervisor loved to tell. it goes like this:
"There were four people and a job to do.
Everybody wanted to do it, and agreed that Somebody should do it.
Actually, Anybody could do it.
But as it turned out, Nobody did it."
I have personally been called to correct issues at sites where Nobody had poured the concrete for the install, thinking Somebody else would do it, and Everybody was pretty upset over the ensuing project delay and it's expense.
Your operation is vulnerable to these same costly glitches. An experienced consultant can mitigate the risk of associated downtime, enabling your managers to remain focused on production and quality without distraction.
Interestingly, some plants have evidently been so burned by downtime that they take an eye-opening approach to controlling it. Just last week, I was on site at a tiered supplier being charged $6,000 a minute for downtime caused by issues related to their products, by the manufacturer they supply.
Maybe your operation can't hold its suppliers to a $6,000-per-minute standard, but you are not without recourse to take downtime risks seriously, and approach your automation project with a realistic plan to control it.
Bottom line questions
Money talks. And when it's YOUR money, it shouts. Let's break out the bullhorn here:
How much value would a consultant bring to YOUR project?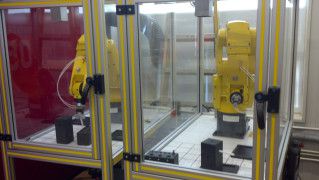 By managing your project from concept to completion, a consultant enables plant management to remain focused on production without the distraction of project completion and ramp up time.
The consultant reduces the costly, all-too-common glitches that occur during automation projects, fully prepares employees to meet the new operational demands with confidence, experience and safety training — and does it all for much less than the cost of downtime.
Maybe a simple formula would help you visualize the impact:
Downtime cost per hour=
+proposed efficiency gain per hour benefit (how much your project will improve your bottom line per hour)=
-cost of consultant per hour=net benefit
Every hour of time that a consultant can save in downtime or project start-up time is the realized benefit of the consultant's value.
Good managers apply the best resource at the right time to achieve the best results, with an eye on the bottom line impact. Successful coaches at all levels are the best at organizing talent and strategy to assure that the "job" gets done.
How will you structure your plant's automation project to mitigate downtime costs and get the best results? A consultant may just be the solution.