Here are a couple of tips from the field:
Scenario 1:
A recent installation took a little longer than expected. I thought I would send this out as a helpful tip to maybe help someone else avoid this potential time gobbler. One particular aspect of the operation was using vacuum to pick up a slip sheet. This was problematic in the shop and it seemed an equipment set issue at first. After troubleshooting the mechanical side of the install I decided to bypass the vacuum to see if it would stack boxes.
Waiting on GI/GO [ ] = xx?
When I bypassed the vacuum, the system started like it was going to run, and as many of you have seen, just seemed to wait. Most of the time it is simply a prox not made or a condition not met. Not this time. I replicated the event look here with this picture from Roboguide. So, if you see this type of wait, maybe the following will help.
Let me back up a bit to share why this was a surprise.
A normal part of my commissioning process is to verify I/O's. Static all the I/O's checked out. So when my program was waiting for an I/O it should already have, I was interested in why. At the same time, it was revealed that the answer to both issues may be lurking in the same corner.
It turned out to be the Point I/O that was mounted on the EOAT. The comm port had been damaged by too little space within the enclosure to clear Cat 6 cabling. When the EOAT tool would move the signal would drop out. Pre bending the cable and moving it to the adjacent port resolved the condition for now. A recommendation was submitted for a larger box allowing the room needed to not stress the port.
Every installation has its nuances. I hope this will help someone with the diagnosis of their waiting for GI/GO stoppage.
Scenario 2:
On a service call I arrived on site to help with a CompactLogix PLC fault. The first indication that this was not going to be really quick was the infamous Red Light!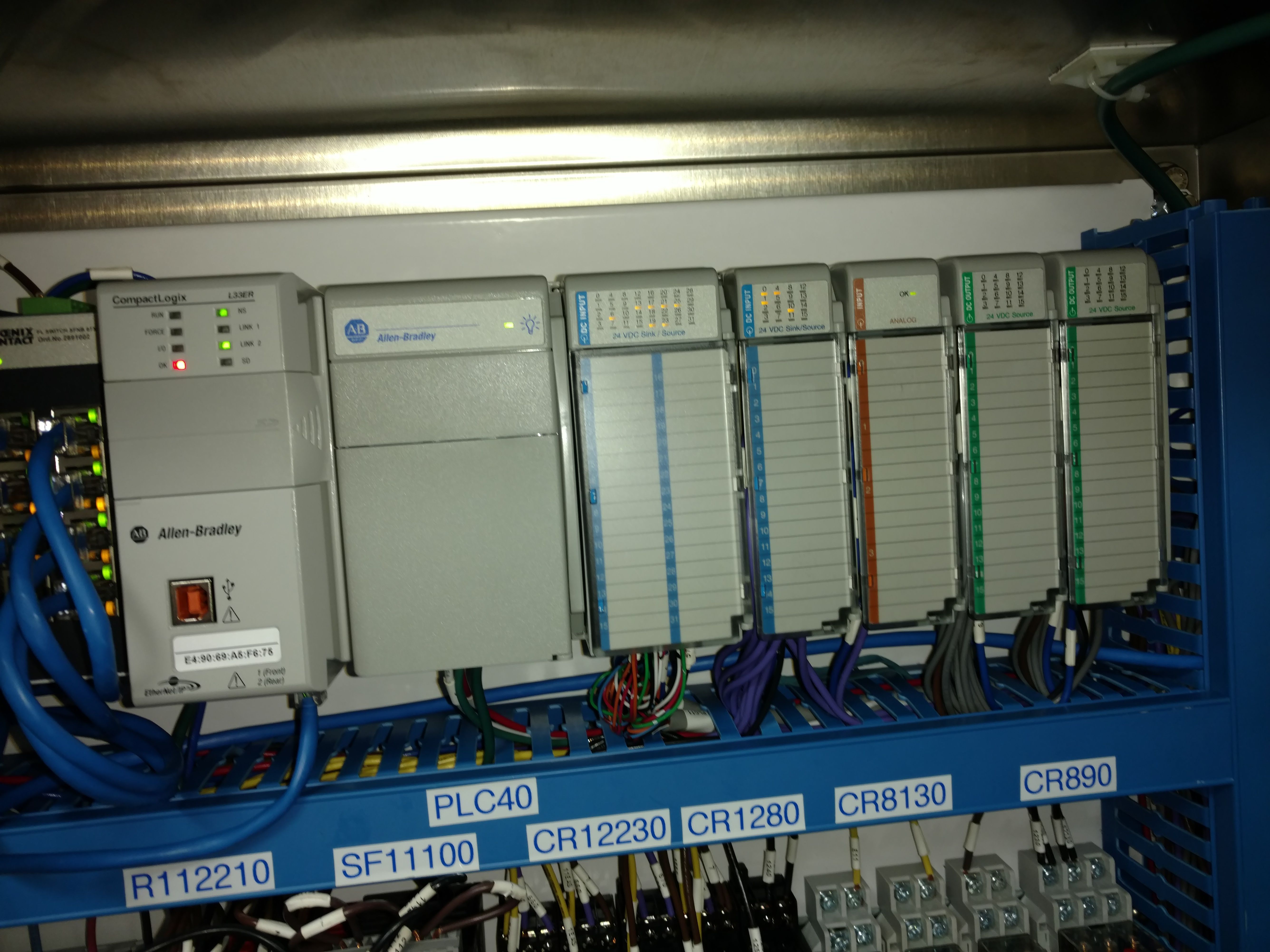 The Red Light!
Of course my attempt to go online was thwarted by the firmware not matching. Going to device properties I discovered that the PLC had not only lost its program, but all its firmware revisions except 01.02!
PLC CPR
To remedy I was able to Control Flash the firmware matching the project and download the project to get it going. I am not sure what condition would have caused this degree of destruction. It would seem that voltage alone would not have done this without further damage. So, if you see The Red Light you may have to include a firmware flash to be able to download your project and get back running.
If your cell or installation has seen an oddity, please share in the comments so that we can all save time in getting things going.